The Birth of KES
In 1970, with an increasing need for objective texture evaluation technology, "The Hand Evaluation and Standardization Committee (HESC)" was set up in The Textile Machinery Society of Japan. Its purpose was the "standardization of the hand evaluation of fabrics" and the "analysis of hand judgement which had been done by the experts in the factories in Japan".
At that time, Dr. Kawabata and Dr. Masako Niwa of Nara Women's University played a central role in this committee. Skilled engineers from Japan's leading textile companies and university researchers were members of this committee. The committee took three years to evaluate approx. 500 different types of fabrics and defined "primary hand expressions" and "total hand value", and successfully developed an " objective evaluation method for fabric texture".
In this study, it was found that the texture evaluation was based on the initial mechanical properties in the micro-load range, and the "texture measurement technology, KES (KAWABATA EVALUATION SYSTEM)" was developed to measure the mechanical properties of fabrics.
The KES measurement conditions do not conform to JIS and ISO standards, however they are recognized and used worldwide by many skilled technicians and researchers in universities and companies.
*Reference:
Sueo Kawabata, "The Standardization and Analysis of Hand Evaluation (2nd Edition), The Hand Evaluation and Standardization Committee", Osaka, Japan, 1980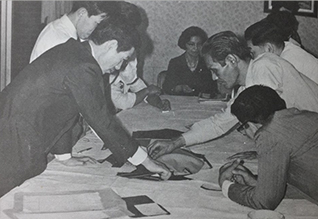 The Hand Evaluation and Standardization Committee*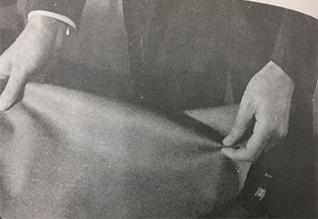 Typical hand movement of Japanese experts for texture evaluation*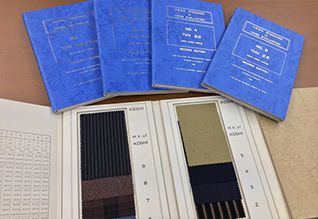 Standard reference materials for texture